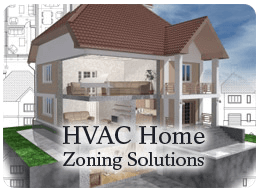 1. LOWER YOUR UTILITY BILLS
Installing a home zoning solution in your home can significantly reduce your heating and cooling running costs. With a home zoning solution, your home can be divided into rooms or "zones" allowing you to choose which zone you want heated or cooled rather than wasting energy and money heating or cooling the whole house.
2. EXPERT DESIGN AND INSTALLATION
A professional installation will help you to ensure you get the most out of your new home zoning technology. 20/20 can expertly assess your home and advise on the right system with the right number of zones to suit your needs. We can install all required ducting ensuring it is correctly sized and placed in the optimum position for reliable operation and maximum efficiency.
3. PERSONALIZED HOME COMFORT
Set the part of the home you're in to your own personal comfort level with a zoning solution.
4. HELP ELIMINATE HOT AND COOL SPOTS IN YOUR HOME
If your house has certain areas that are always too hot or too cold, home zoning can help you to maintain a desired temperature that is just right for you.
5. PROFESSIONAL TECHNICIANS
20/20 Air is fully-licensed and insured and our technicians are highly trained and experienced for all your home zoning and heating and cooling needs.
6. FRIENDLY & TIDY SERVICE
20/20's helpful staff is always available to answer any questions you have about your home zoning needs. Our clean-cut technicians use work mats and shoe covers to minimize any mess and will even clean-up when the work is completed.
7. WRITTEN WARRANTY ON WORKMANSHIP
Relax knowing all 20/20 workmanship is backed by a written warranty.
8. SATISFACTION GUARANTEED SERVICE
Enjoy great service from 20/20 Air with a level of service which is second to none.
For all your home zoning solutions and installations for your home in the CT and NY area, call and speak with the friendly professionals at 20/20 Air today.